Used Auto Parts - Parts and Labor Warranty
Understanding Extended Warranty on Used Auto Parts
---
By Ben Silver - December 11, 2019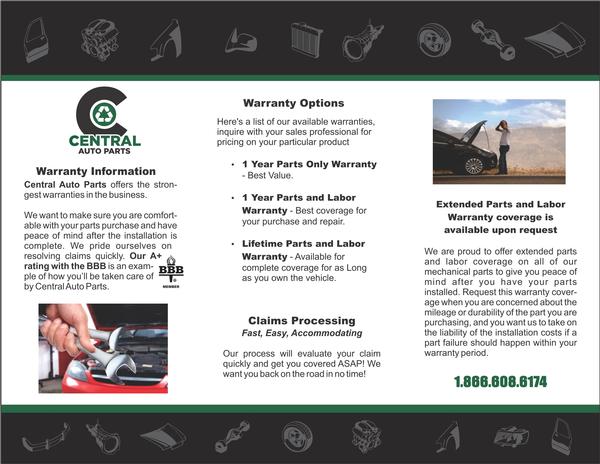 So, you're buying a used engine or used transmission and are curious about purchasing a Parts and Labor Warranty.  Great, these warranties aren't always a fit for our customers but they can be great insurance for your purchase and give you peace of mind as you drive your vehicle away from the shop.  Used engines and transmissions have about the same failure rate of remanufactured engines and transmissions, which is roughly 5%-7%.  So, they don't have defects that often, but when they do it can be quite costly.   No matter what warranty you have with Central Auto Parts, we'll process your claim quickly and fulfill our responsibility to the warranty 100% fo the time.
Parts Only Warranty VS Parts and Labor Warranty
When you're dealing with used auto parts, namely used engines and used transmissions, it's wise to protect the cost of labor on your purchase.  A Parts Only Warranty is only going to cover the engine or transmission in the case of a defect.  So, if the installation costs $1200-$2000, you would be out that cost without a Parts and Labor Warranty.  These defects or problems can occur at any time, and most Parts Only Warranty's will be around 90 or 100 days.  The Parts and Labor Warranty will generally extend the duration that your product and installation will be covered by a period of 1 Year to a Lifetime, depending on which option suits you.
The Parts and Labor Warranty
When a client or customer of ours purchases Parts and Labor coverage, they're protecting their investment in the used auto part they purchased.  This can be an investment of $900 on average for a used transmission or $1300 on average for a used engine, plus the cost of installation which often times cost more than the part itself.  This is an important and expensive investment in the future of your vehicle.  Our warranty covers any problems with the product we sell up on installation or for as long as the warranty is in place.  Our Parts and Labor Warranty's are reasonably priced to provide you with value and protection.
Claims Process
If a defect occurs, you simply open up a claim with your sales rep and we take immediate action to inspect and troubleshoot the problem.  Often times, our expertise can result in a quick repair that can get you down the road.  If the issue is major, we'll replace the product ASAP and get you or your professional repair shop reimbursed for the installation according to the warranty specifications.
Click Here to Return to Home Page
Go Back