Producing Quality Used Auto Parts for Colorado Springs
How a Salvage Yard Manages Processes for Quality
---
By Ben Silver - March 31, 2022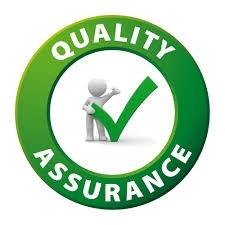 Building Quality into our Process to Ensure Success!

CAP has four main quality checkpoints
 where our used auto parts are observed, tested, and diagnosed with damage.  An employee at any one of these quality checkpoints has an opportunity to screen used auto parts for quality and continue to build on our reputation of quality.  The object of inspecting parts is to find and remove defective used auto parts from the process so the end customer doesn't have a negative experience with one of our products.  All employees, whether they are at a quality checkpoint or not, are responsible for seeking out and reporting damage or defective parts.  It is this process of everyone working together to report damage and defects that allows us to produce consistent quality and continue to build on our reputation of high quality used auto parts in Colorado Springs and across the state.
1st Checkpoint – Inventory Process at the Salvage Yard
Used engines and used transmissions that are delivered to Colorado Springs daily are run and tested for the first time, if they are damaged it is noted in inventory and on the vehicle.  All sheet metal auto parts like doors, trunk lids, fenders, etc., are assessed for damage and graded.  The vehicle is inspected for any hidden damage or other defective used auto parts and these are noted in the inventory or stock ticket record for that vehicle.  Our sales staff utilizes this detailed information on each used auto part to find and describe everything at our salvage yard.
2nd Checkpoint – Dismantling at the Salvage Yard
This is the process of run-testing the engine and transmission, doing a compression test on all cylinders, testing electric parts, AC/Heat, etc.  Hopefully, all used auto parts defects will be caught at one of the first two checkpoints but some still slip through the cracks.  Processing the auto salvage vehicle also includes draining all fluids in the vehicle, extracting A/C, and removing of some of the used auto parts.  These vehicles are stored in our Denver location, but our speedy delivery service will these used auto parts to Colorado Springs in no time!
3rd Checkpoint – Used Auto Parts Removal at the Salvage Yard
When our used auto parts pullers/dismantlers remove a used auto part from a salvage vehicle, it is their responsibility to check and investigate that part for further or hidden damage.  Some damage/defects aren't visible until the used auto part is completely removed from the vehicle, that's why it is vitally important to check the parts again after they've been removed and before they're delivered to Colorado Springs.
4th Checkpoint – Shipping/Loading Used Auto Parts for Delivery to Colorado Springs
This checkpoint is our last line of defense against defects and damage.  When loading the delivery trucks, our drivers are responsible for competing a final quality inspection on any used auto part going to Colorado Springs.  They must check all the used auto parts on their truck for additional damage or a defect.  This includes mechanical parts like used engines, used transmissions, used transfer cases, used rear axles, etc.  Inspections are done looking for anything out of the ordinary.  If some damage or a defect is found on a used auto part we're sending to Colorado Springs, it is to be reported immediately to the appropriate salesperson or management before delivery.  Used Auto Parts that are being shipped to Colorado Springs are to undergo one final inspection as well.  Again, if damage or a defect is found it should be reported before the used auto part is shipped.
Miscellaneous Quality Checks 
All used engines are turned over before they leave the warehouse.  This ensures that used engine will be ready for install when it arrives to your destination in Colorado Springs.

All used auto parts, that can be, are cleaned before they leave our facility.

Salesmen periodically inspect used auto parts when damage is shown in inventory.

Warehouse clerk inspects salvage parts when putting them away in the warehouse.

Returned used auto parts are inspected to clarify damage or defect, or to assess further damage.
Quality Customer Service
Every employee at CAP is responsible for providing quality customer service.  Whether you're a Salesperson who is dealing with customers constantly, or someone who has rare contact with customers, you must conduct yourself professionally when you're around or with our customers.  Quality customer service means that our customers are treated fairly and with respect.  This treatment is what we expect our employees to provide to our customers. Contact our Sales Team today to see for yourself!
Quality Delivery Service to Colorado Springs
CAP strives to complete all deliveries within 24 hours of the time the part is ordered.  Fast, friendly delivery of the correct used auto part is quality delivery.  Double-checking used auto parts for accuracy and damage will also improve the timeliness and quality of our delivery program.  Prevention of damage in route to our customers in Colorado Springs is also vital to our quality.  All used auto parts must be secured to our trucks so that they are unable to rotate or shift during delivery.  If damage does occur while in transit, drivers are responsible for calling and reporting the damage to the appropriate salesman and management.

Click Here to Return to Home Page
Go Back